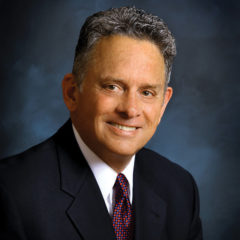 Gary Pasquinelli
Owner & C.E.O.
+ BIO
In 1967, Pasquinelli left Berkeley and headed to Yuma. He traded in his Oldsmobile 442 for a six-cylinder Ford pickup. His first assignment was in the cabbage patch where he was responsible for its harvest. Compared to the rest of the 4000-acre farming operation, it was a small slice of the pie, just 40 acres. But the difference was, it was his.
Having successfully managed the cabbage harvest, the following year he was assigned to manage the produce field trucks. For two years, he oversaw the trucks that hauled the lettuce from the fields back to the cooling plants as well as the 'stitchers' which were used to staple the field cartons together. Destined for greater things, the end of that assignment led him to his biggest job yet — overseeing the entire harvest.
The next 18 years were formative for the young Pasquinelli and provided a platform for constructing the man he is today. During those years he got to know every worker in the operation, all 230 of them. He knew their names, their families and their interests. And he got to where he could speak Spanish fluently. As he described it, "I lived with them out in the field and was with them morning to night. I really respected those people. I got an appreciation for what tough work that was."
Often times, he would cut and pack lettuce with them and would join the slowest packing line to help out. And when things weren't going right, which didn't happen often, he would stop the whole crew and say, "'Either we are going to do this right or we are going to go home.' I was tough, but I was fair. And I only demanded what I could do myself."
Between 1975 and 1983, Pasquinelli estimates he ran about 65 percent of the company and his dad ran 35 percent. He said Pete was known as the "Gray Eagle," a nickname that connoted strength and wisdom.
When his dad passed away in 1984 and Gary took over the entire operation, he had an epiphany upon reflecting on the Gray Eagle's position and status in the company. "I remember thinking he was always the back stop. If a ball got by, the Gray Eagle was there. He never left the playing field," he emotionally recalled. "And it occurred to me, with his passing, 'Now I'm the back stop'. It really hit me."
The Parallel Calling:
Farming wasn't the only calling in Pasquinelli's life. In the late 1980s, Ed King, a deacon at his church, St. Francis in Yuma, approached Pasquinelli about joining the ranks. At the time, Pasquinelli was serving as a hospice volunteer. He had started a hospice community advisory board for Project CENTRL, a University of Arizona Leadership Program, and had taken to caring for three of his own hospice patients. His caring and compassionate nature didn't escape Deacon King. Pasquinelli recalled what King said to him. "I've seen you teach around the parish. You taught CCD and religious ed to teenagers. You would make a good diaconate candidate. You should pray about becoming a deacon."
Pasquinelli did just that and received an answer from God. On June 8, 1991, not long before his mother passed away, he was ordained a deacon in the Diocese of Tucson. "She was very proud of me," he added.
Besides tending to his own family matters, Deacon Pasquinelli preaches at Mass, runs the infant baptism program, performs baptism interviews, teaches classes and sometimes takes communion to nursing homes. Combining his home life, his farming life and his diaconate life can be challenging, but he says he's up to the task. "I wear my clerical collar and vestments when I am performing duties, but I am a deacon 24/7, whether it's inside or outside of church, with family or work, in everything I do."
Pasquinelli has been married to his wife, Barbara, for 44 years and has four daughters. Their daughter, Kirsten, passed away from Adrenocortical Carcinoma and a foundation has been established to cure this disease thereby supporting her legacy. The Pasquinellis enjoy the company of nine grandsons, a set of twins who may be following in Gary's footsteps by attending Notre Dame in the near future and one who will be a freshman at the Florida Institute of Technology.
Pasquinelli's background, experience and position as a deacon have combined to enhance how he operates his company and treats his employees. He says he has always made sure that his people have had good benefits that include health, dental and vision insurance, paid vacations, a pension plan, interest-free advances and the ability to borrow money to bring family to the United States. Pasquinelli further explains that the company is always quick to give raises. He never wants his people to have to ask for a raise. "We want to do it on a yearly basis and when the cost of living goes up." He credits his sister, Adrienne McLaughlin, a silent co-owner in the company, with his ability to run things as he sees fit. "She has been a perfect and very understanding partner," he said proudly.
As far as how his position as a deacon affects his relationship with the workers at Pasquinelli Produce, he says it's very simple. "I believe that the strongest part of my company is the folks out there working in the fields. Without them, we couldn't do what we do. They are entrusted to me to take care of. They are God's children just like I am. They are brothers and sisters, so I have a duty to take care of those folks. My motto has always been, 'On the face of a dollar bill, you have the image of Washington. On the face of a farm worker, you have God's image.'"
(x) CLOSE